Servicio de Internet en Cuba y Haití supera en calidad al de Venezuela
Venezuela tiene uno de los peores servicios de Internet del planeta, incluso por debajo de Cuba y Haití, según datos dados a conocer por la Organización No Gubernamental (ONG) Estrategia Ciudadana, que denuncia esta situación como una «censura masiva encubierta» a la cual son sometidos todos los habitantes del país.

AngelArt Art that Inspires
visit artallegory.com/ to learn more
Con base en cifras de la Broadband Speed League, Venezuela se ubica en el puesto número 184 en velocidad promedio de la navegación en la Web a escala planetaria, con 1,4 gigabytes (GB), mientras que Haití reporta una velocidad de 2,9 GB y Cuba de 1,7.
La entidad señala que mientras en Uruguay bajar una película de 5 gigabytes es un proceso de una hora, en Venezuela se necesitan ocho.
Esta situación tiene un enorme impacto en las empresas y se ha convertido en un factor crítico de pérdida de competitividad, porque las actividades que requieren conexión -actualmente prácticamente todas, por la masificación de tecnologías como la computación de nube- en Venezuela requieren tres o cuatro veces más tiempo por la calidad del servicio de Internet.
Uruguay es el país con mayor velocidad en Internet en América Latina, con un promedio de 9,2 gigabytes.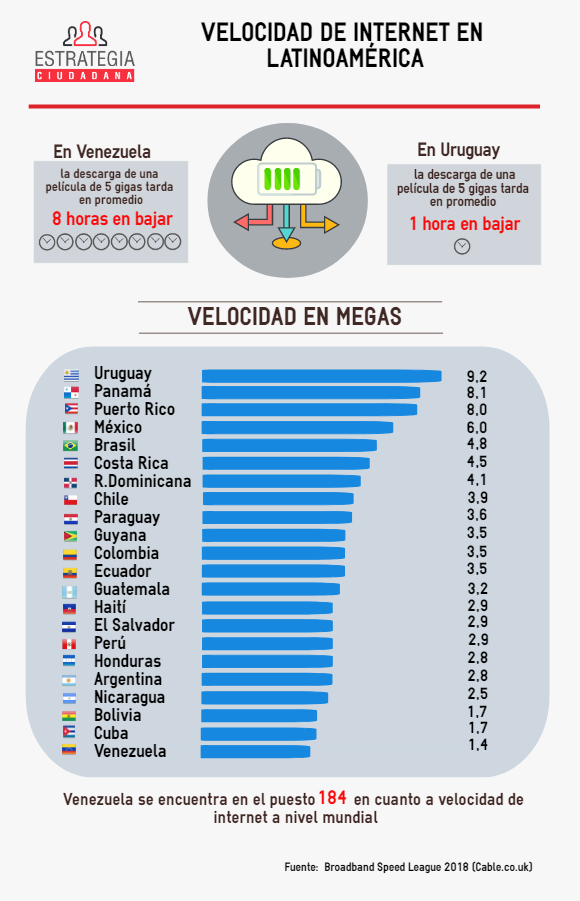 Uno de los factores que también ha incidido en la precariedad del acceso a la Web son las continuas fallas de servicio eléctrico, las cuales afectan a más de 90% del territorio nacional de manera recurrente; sin embargo, el problema de la mala conectividad es prioritario solo para 3% de la población, de acuerdo con una encuesta realizada por Estrategia Ciudadana.
Lo anterior se comprende perfectamente en un país donde hay fallas graves de servicios elementales para la vida como suministro de agua y electricidad, a lo que se suma la creciente escasez de gas doméstico.
La encuesta citada señala que 38% de la población considera que el servicio de agua es el más deficiente, seguido del suministro eléctrico, para el 30%, y la provisión de gas doméstico según el 22% de los encuestados.
La mala calidad de los servicios de Internet tiene implicaciones sumamente graves, incluso para el ejercicio de derechos fundamentales como el trabajo, acceso a la información, y la educación, entre otros.
Recientemente, el presidente Nicolás Maduro hizo la promesa de establecer la infraestructura necesaria para incorporar a Venezuela al estandar de navegación 5G en 2020, mientras el sector telecomunicaciones, en general, atraviesa una severa crisis por la reducción de sus ingresos, debido a regulaciones tarifarias.
Powered by WPeMatico